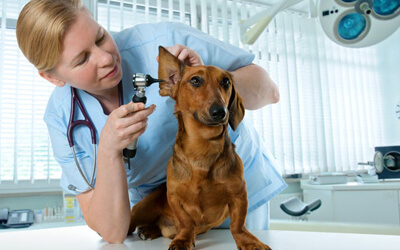 Becoming a pet owner is a great responsibility as your loving dog is introduced as a member of your home. When matter is based on your pup's health, making appointments with the vet is an ideal option. A vet visit can give your pet a best medical service and enhance his or her lifespan. One must not only hire a vet at the time of his sickness but must consider him on regular intervals. Only a timely health check-up is helpful in managing the dog's health and keeps away from indulging in an emergency.
You must read these best reasons why vet visits are beneficial for your pet's health:
Early Disease Detection

It's tough for the homeowner to catch the disease of his loving pup as they can't talk to describe their pain. If you want to identify the diseases at an early stage, perform a vet visit every six months. Only a professional can easily identify the diseases and are also helpful in handling the symptoms.

Be Aware of Harmful Toxins

A regular checkup from a vet is helpful in detecting the signs of harmful toxins. It's necessary to know if your pet comes in contact with harmful substances like toxins. You must make sure that the toys you buy must be free from harmful chemicals.

Check For Parasite Problem

Taking your loving pet to a veterinarian is helpful in detecting the parasite problem. Once the parasites are detected early, then the vet can easily treat your dog with proper medicine and eliminate the health risk.

Save Money In Long Run

If the possible health issue caught and resolved within a short period of time, then one has to not pay much in future. In the same manner, if the small issues are ignored, then it will be equivalent to large payment.
No matter whether your dog is young or elder, a regular vet visit is very crucial for every animal. This will help in detecting the problems at early and maintaining the pet's well-being. If you want to intake personalized care for your dog, you can choose our professional veterinarians at Westheights Veterinary Hospital.