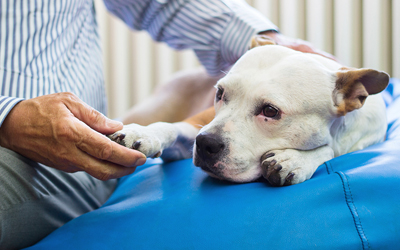 Frostbite
If a dog stays in very cold environment for long duration then this decease may impact their health. In this decease all blood of the body is being pulled to the center. Due to the Frostbite decease the paws, ears or nose of the dog freeze. The ice crystals start forming in the tissues. For few initial days you may not be able to view the changes even.

Whenever you notice the symptom of Frostbite, you can immediately make them warm by applying warm water to all affected areas. By this al ice crystals will be melted and blood circulation will start over again. While giving the therapy makes sure that do not massage the frostbitten areas. It may lead t pain.
Hypothermia
This decease may also be in the case if the dog remains in cold environment for long time period. If any dog has already any of the ailments among heart or diabetes, then they are considered to be more prominent to Hypothermia decease. The dogs suffering from this decease are not able to maintain their body temperature. The symptoms of Hypothermia decease are lethargy, weakness and restlessness.
Pneumonia and Flu
Mostly elder dogs and young puppies suffer from this decease. However the decease is not limited to only them. If any dog has been in rain or snow for a long time, then they may also suffer through this decease. Dry or moist cough and sneezing are the symptoms of pneumonia or flu. In severe cases fever, bloody cough and breathing problems can be noticed.
The Sniffles
Just like humans dogs can also sniffle. The symptoms of sniffle are watery eyes runny nose, slight cough and occasional sneezing. The disease can be treated in dogs just like as in humans. Give your pet a warm blanket, a good amount of rest and give them lots of water.
Kennel Cough
Canine infectious or kennel cough is a trachea-bronchitis disease that dogs can caught especially in winters. If virus and bacteria works together then it may cause this condition. Eye-discharge and honking dry cough can cause this decease.
If you are undergoing through any of above-listed or other disease then you may contact the professional doctor. We can provide you best assistance for treating your dog. Just reach us to know more about our services.