Pet Dentistry & Dental Diagnosis
It would be hard to digest but, around 80% of pets suffer from minor to major periodontal disease. This number is soaring as pet owners overlook the dental health issues of their pets. Pet owners need to understand that just like humans, pets also require dental services. A minor dental issue can lead to pain or discomfort affecting the overall health condition of your pet. We, at Westheights Veterinary Hospital, host an array of oral health assessments and treatments at highly competitive prices.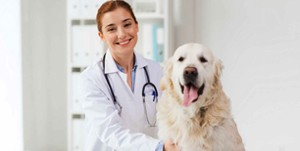 Our pet dentistry service starts with a detailed assessment of teeth and gums. It includes probing the gums, cavity filling, root canal, and many other advanced dental treatments. Every year we celebrate the month of February as the dental health care month for our pets.
Call us TODAY to discuss our pet dental care services in Kitchener.
Periodontal Diseases and Pets
Periodontal disease is associated with the gums affecting the supporting structure of the tooth. Poor dental hygiene leads to bad breath, bruxism, anorexia, and other diseases that can beset the tooth and overall health condition of the pets.
Experienced Pet Dental Services in Kitchener
Pet dentistry is as important as human dentistry. Our vets give due emphasis on pet oral health care services for both cats and dogs. We make owners vigilant about pet's oral health needs and how they can control the periodontal diseases at the initial stage.
Neglecting the oral health of your pet will not only cost you hundreds of dollars but also its healthy lifestyle. Pets are completely dependable on their pet owners for their health care. Thus, it's the foremost responsibility of the owner to take their pets for a routine oral health checkup.
Symptoms of Pet Oral Health
Bad breath
Gingivitis
Loose teeth
Swollen mouth
Aversion to Eating
Plaque Build-up
Difficulty in Chewing
Ulcers on gums or tongue
Excessive drooling
Discolored Teeth
The dark red line along the gums
Our Pet Dental Care Services
Westheights Veterinary Hospital provides a wide range of pet dental health care services for both cats and dogs at affordable prices. We endeavor to maintain the pristine oral health condition of your pets. Our services include:
Broken Tooth: We treat broken or infected teeth.
Alignment of Misdirected Tooth: We resolve the misdirected teeth issues and make sure the teeth are properly aligned. This prevents the chances of soft tissue damage.
For advanced treatment of complicated cases, we can refer your pet to the dental specialist
Our veterinarians at Westheights Veterinary Hospital will provide you with a detailed pet oral health chart. This will help you in maintaining the oral health condition of your pet. Regular brushing and a periodic dental checkup is the key to attaining problem-free teeth.
Contact now to book an appointment for your pet's oral health.