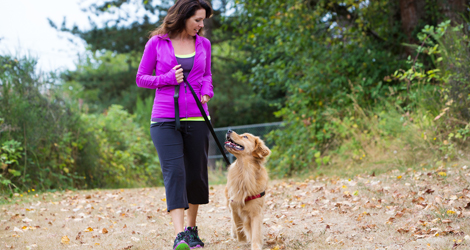 Pets are wonderful creatures that can transform the life of their owner. They are responsible for bringing more happiness, fun, charm and emotions. Believe it or not, dogs are the loveliest pets in the entire world. They are true companions who'll never ever leave their owners alone in the danger hours. They can make your stress and boredom disappear within few minutes of cuddling. Though adopting a dog offers many mental benefits, recent research conveys that these animals also play a good role in developing a healthy lifestyle for their owners. If you are a dog owner, then you might be aware of the ways they are making you more punctual and friendly.
Few ways a dog can help in developing a healthy lifestyle are:
Builds an exercising routine

You might be taking out your pet for a walk at least twice or thrice a day. Running and playing with these notorious animals is no less than a complete exercising routine. While others are still sleeping in the bed, you are out on a walk with your guardian. Following this as a routine can help improve your physical health along with promoting healthy heart and digestive system.

Provides companionship

If you are having a dog at home, bet me, you'll never feel alone. A dog is such a nice pet that can identify your mood and will never make you sit sadly or alone. This is the reason that they are considered true companions for life. Since a dog will never make you feel regretted or lose hope, even your bad days will soon turn into the blooming ones.

Helps meet new people

Believe it or not, people who own a dog has a much wider social circle in the neighborhood compared to those who don't. A dog taken out for a walk is an effective social platform that can help in building new friendships. Dog owners often stand alongside and talk to each other, while on a walk. This simultaneously leads to new friendships.

Develops confidence

Dog owners are comparatively more confident than others. Owing a dog greatly helps in building self confidence and a person can walk more proudly in a crowd of people. Since dogs are unaware of the life troubles and live stress-free, they can help their owners enjoy and appreciate every moment of life.
These are some ways in which a dog can assist his owner in developing a healthy lifestyle. If you are responsible dog owner, then bring your pet to the Kitchener veterans at Westheights Veterinary Hospital for an annual wellness examination and routine vaccination.