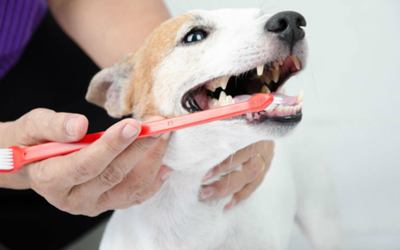 For pet owners, the most difficult task is to clean the pet's teeth by their own. While grooming the pup, it is necessary to give attention to its oral health along with the bathing and eating meals. To keep them away from several diseases, a dog needs a clean and healthy mouth to breathe. A owner must adopt a habit of regular cleaning of his dog's teeth and follow some easy ways while brushing them.
You can review some of the easiest ways to clean your dog's teeth:
Start Early

It's good to start cleaning your dog's teeth at an early stage when he is a pup. You must keep continuing this technique until your pup turns older. Moreover, never start brushing them when he has milk teeth as it is the time when its teeth are a bit sore for brushing.

Have Patience

While working on your dog's mouth, it is necessary to have patience and handle him with loving nature. It is also advised to choose the quiet and relaxed time for brushing the dog's teeth. You can also hire dental care services to get your dog treat with some effective techniques.

Dog Food

The another easy way to clean your dog's teeth is to use dog food like some organic fruits and vegetables. This kind of food helps in removing the plaque and tartar issues without brushing them. This is one of the easy ways that reduces the bacteria like problems and helps in maintaining the digestive system.

Fortify Water

One can add an apple cider vinegar into the dog's drinking water in order to keep its teeth more stronger and healthy. If still the results not come, you can go with dental services that are specially meant for puppies.

Experienced Dental Services

Most of the dogs get aggressive and do not allow the owners to touch their teeth and can cause a painful dog bite. For those dogs, you must invest in experienced dental services as they know how to tackle the dogs with some useful tricks.
Pet dentistry is must for the dog's health as it is helpful in eliminating the birth of harmful diseases at the initial stage. In order to resolve broken or misdirected teeth issues, you can go with our pet dental care services at Westheights Veterinary Hospital.